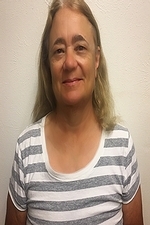 888-269-4442 Ext 703
888-269-4442 fax
210-844-5634 cell phone

nancy.hodo@amzrealty.com
18382 FM 306 Suite 103
Canyon Lake Texas, 78133
Receive Email Alerts from Me
I purchased my first farm when I was 22 years old and I have been passionate about farm and ranch property ever since. After 26 years as an engineer in Corporate America, I retired early and began to focus on personal real estate investments for my family. I also started my own business building rustic furniture and furnishings utilizing the native 'cedar' (Ashe juniper) found in the Texas Hill Country. But the lure of real estate once again tugged me back into the land business and I accepted the position of real estate agent with Amz Realty.
Treating my customers with respect and placing their needs above my own has always been at the core of professional beliefs. Hard work and honesty are the cornerstones of my personal work ethic. You will find that the owners and agents of Amz Realty have this very same work philosophy.
We here at AMZ Realty are ready, willing, and very able to use our experience, expertise, and exceptional work ethic to find you that perfect piece of the Texas Hill Country for your very own.